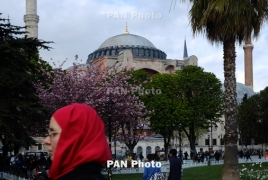 September 7, 2018 - 12:17 AMT
PanARMENIAN.Net - Turkish Armenian lawmaker Garo Paylan, the Diyarbakır MP of the Peoples' Democratic Party (HDP), has submitted a motion to the parliament, requesting that a parliamentary investigation be opened into the pogrom of September 6/7 in its 63rd year, Bianet reports.
The Istanbul pogrom, also known as the Istanbul riots or September events were organized mob attacks directed primarily at Istanbul's Greek minority on 6–7 September 1955.
In the motion that he has submitted, Paylan has said that the "Pogrom of September 6/7, 1955 is one of the gravest incidents that took place in the Republic of Turkey and has still not been confronted.
"According to official figures, in Istanbul only, 73 churches, 8 sacred springs, 2 monasteries, 5,538 houses and shops, 3,584 of which belonged to the Greeks from Turkey, were destroyed, vandalized and plundered."
The official records have also shown that 60 women were raped and several people were killed during the pogrom, Paylan said.
"It will be an important step for the Republic of Turkey to confront its past by finding the perpetrators of the Pogrom on September 6/7, 1955, identifying the losses of life and property and compensating the material and non-material losses of the victims and/or their families," he said.
"For this reason, we demand that a parliamentary investigation be opened."
In his statement to the press, HDP's Assyrian MP Tuma Çelik has also requested that an investigation be launched into the pogrom.