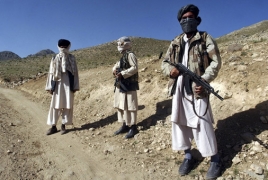 September 10, 2018 - 14:52 AMT
PanARMENIAN.Net - Afghan government forces have killed three prominent Taliban leaders along with 10 fighters of the group in separate clashes in the provinces of Ghor, Baghlan and Badghis, IRNA says.
Following attacks by government forces within the past 24 hours, Mullah Ahmad Shah, the self-proclaimed governor for Ghor Province, Mowlavi Saifuddin in Baghlan Province, Mowlavi Nazir, head of Taliban's Red Unit in Badghis Province were killed, Afghan news sources said on Monday.
According to reports from other provinces in Afghanistan, during the same period, 45 government forces were also killed in Taliban attacks, with the largest portion of the death toll standing at 30 from Baghlan Province. Taliban also captured 15 police stations.
Meanwhile, news from Dasht-e-Archi district in Kunduz Province indicates 15 government forces have been killed in Taliban attacks and about 15 others have been wounded.
Taliban also attacked Damir Dad in Maidan Wardak province on Sunday morning. The clashes continued until yesterday, with at least 10 government forces killed. The officials have not given any report on the conflict yet. The passport office assistant of the northern Balkh Province was assassinated last night by armed and unknown people in Mazar-i-Sharif.
Nobody has so far claimed responsibility for the assassination.