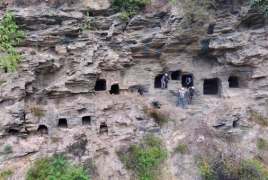 September 12, 2018 - 14:28 AMT
PanARMENIAN.Net - 37 ancient rock tombs were recently discovered in Yangpitan, Yunxi county, Central China's Hubei province, China.org.cn reports.
This is the first time for archaeological workers to carry out large-scale archaeological excavations by rock climbing along the Hanjiang River, Central China's Hubei province.
From the 37 tombs, human bones, and items from the Tang Dynasty (618-907), such as copper coins, material beads, celadon fragments and inscription bricks, have been unearthed.