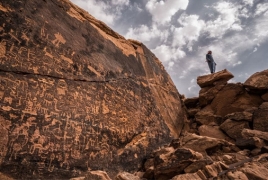 September 18, 2018 - 13:55 AMT
PanARMENIAN.Net - Archaeologists in Saudi Arabia have uncovered a 100,000-year-old site in the mountain range south of Riyadh dating back to the Paleolithic period, Gulf News Saudi Arabia reports.
The joint Saudi-French mission was carried out at archaeological sites under the supervision of the Saudi Commission for Tourism and National Heritage, which included field surveys at the hills surrounding the Al Kharj Mountains, part of the hills overlooking the Mawan valley, Ein Farzane and the hills overlooking the town of Al Shadidah.
This is the first time that sites from the Paleolithic period were discovered in Al Kharj as well as sites that originated from the Upper Paleolithic period, according to the Saudi Press Agency (SPA).
The Paleolithic period was also known as the Stone Age that ranged from 2 million to 10,000 years ago, while the Upper Paleolithic period began about 40,000 years ago.
The mission included 18 members of the Saudi and French scientists and specialists in the field of archaeological excavations.
The joint Saudi-French mission was carried out within the framework of an agreement signed between the two parties on September 21, 2011, to explore the archaeological sites at the Al Kharj governorate in Riyadh.
Prince Sultan Bin Salman, president of the tourism commission, appreciated the efforts of the mission and stressed the importance on preparing the site to receive visitors.