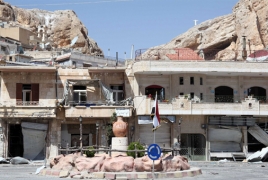 September 27, 2018 - 12:13 AMT
PanARMENIAN.Net - The Islamic State (IS) launched a big attack on the strategic town of Baghouz Fouqani on Wednesday, September 26after suffering heavy losses to the US-backed Syrian Democratic Forces (SDF) the previous week, Al-Masdar News says.
Led by their special forces, the Islamic State managed to score a preliminary advance at the northern axis of Baghouz Fouqani on Wednesday after engaging in a fierce battle with the Syrian Democratic Forces.
However, the Islamic State's advance would ultimately reach a dead end once the Syrian Democratic Forces sent reinforcements to Baghouz Fouqani.
The Syrian Democratic Forces reportedly killed scores of Islamic State militants en route to retaking all points they lost to the terrorist group earlier in the day.
Since losing Baghouz Fouqani, the Islamic State has been desperately trying to retake the points they lost to the Syrian Democratic Forces in eastern Deir ez-Zor.