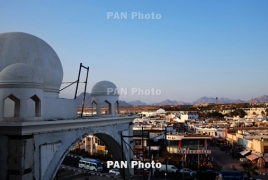 September 27, 2018 - 13:23 AMT
PanARMENIAN.Net - Archaeologists have uncovered a "massive" building that was once part of Egypt's ancient capital city, Fox News reports.
Experts discovered the building, which measures 56 feet by 48 feet, in the town of Mit Rahina, 12 miles south of Cairo.
Mostafa Waziri, secretary general of the Supreme Council of Antiquities, says the building is likely part of the residential block in the ancient Egyptian capital of Memphis.
Memphis, founded around 3,100 B.C., was home to Menes, the king who united Upper and Lower Egypt.
In a Facebook post, Egypt's Antiquities Ministry said that archaeologists also uncovered an attached building that includes a large Roman bath and a chamber likely for religious rituals.
The building is the latest fascinating ancient find in Egypt. Archaeologists, for example, recently discovered a stunning sphinx statue at an ancient temple in southern Egypt.
In another project, archaeologists unlocked the secrets of a mysterious ancient 'cursed' black granite sarcophagus.
The massive coffin, which was excavated in the city of Alexandria, was found to contain three skeletons and gold sheets with the remains. The tomb also dates back to the Ptolemaic era.
Experts in southern Egypt recently discovered an extremely rare marble head depicting the Roman Emperor Marcus Aurelius.
In Australia, archaeologists found the tattered remains of an ancient priestess in a 2,500-year-old Egyptian coffin that was long thought to be empty.
On the other side of the world, a rare ancient artifact depicting the famous female pharaoh Hatshepsut surfaced in the U.K. Stunning new research also claims that King Tutankhamun may have been a boy soldier, challenging the theory he was a weak and sickly youth before his mysterious death at around 18 years of age.
Experts in the U.K. also found the world's oldest figurative tattoos on two ancient Egyptian mummies recently, one of which is the oldest tattooed female ever discovered.