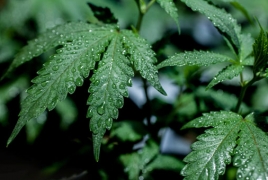 September 29, 2018 - 14:43 AMT
PanARMENIAN.Net - Police have potentially discovered the largest cannabis factory ever found in England, Metro reports.
Two men have been arrested after the illegal operation was found hidden in a vast maze of underground tunnels in Bethel Quarry in Bradford on Avon, Wiltshire. The tunnels form part of a former limestone quarry, where Heinz once used to grow mushrooms for its soup.
Police are currently waiting for the tunnels to be made safe before they can get a clear idea of the size of the drug operation.
A Wiltshire police spokesperson said: 'We haven't been able to properly assess it. There is talk that it is potentially bigger than the Chilmark bunker cannabis factory.'
Officers found a vast cannabis farm with 4000 plants growing in the 40-room decommissioned Ministry of Defence bunker, RGHQ Chilmark, last year.
At the time, police called it the largest cannabis factory ever found in southern England. Alksander Shyti, 45 and Altin Deda, 39, were charged with the production of cannabis at the quarry and were due to appear at Swindon Magistrates Court today.
70-year-old Petik Hakobyan was recently found cultivating cannabis in his greenhouse in the Armenian village of Hovtamej, the police said. The greenhouse, according to the police, is equipped with drip irrigation, ventilation and thermal control systems. To ensure the security of the indoor cannabis grow facility, Hakobyan had installed special sensors and an audio system.