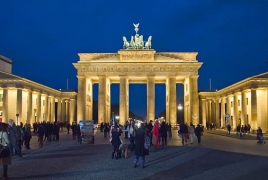 October 1, 2018 - 12:25 AMT
PanARMENIAN.Net - Germany's arms exports to Turkey have collapsed from nearly 10 million euros worth to less than one million in the aftermath of a Turkish occupation of the Afrin province in Syria, Stockholm Center for Freedom reports citing data provided by the German Ministry of Economy.
Since March 14, the newly sworn-in federal German government has approved 16 permits of weapons exports with a total value of almost 917,000 euros, the German Press Agency (DPA) reported on Sunday.
By comparison, the value of 34 weapon export permits Germany approved for Turkey in the period between Jan. 1, 2018, to March 13, 2018, was around 9,7 million euros.
The Turkish military launched an attack on Afrin in late January on the grounds the Kurdish self-rule there posed an existential threat to Turkey, with President Recep Tayyip Erdoğan and his regime's officials employing highly nationalistic and religious rhetoric in the process.
Last year, the exports totaled 34,2 million euros, the Ministry revealed in response to a question by the Greens member of Bundestag, Omid Nouripour.
According to a report by Kurdistan 24, the Turkish occupation that killed over 1,000 Kurdish civilians and fighters ended in March, though a war by the Kurds targeting Ankara-backed Islamist groups continues. Kurdish opposition in Turkey and German opposition condemned Berlin's strong military ties with Ankara.
Turkey has bought over 750 German tanks since the 1980s, German state-funded Deutsche Welle reported during Ankara's attack on Afrin. In 2016, Turkey was among the top 20 recipient countries of the German military industry with 213 arms export authorizations worth a total of 83,9 million euros.
The new numbers on German-Turkish military commerce came after Erdoğan's visit this week to Germany at the invitation of German President Frank-Walter Steinmeier. He also sat down with Chancellor Angela Merkel to boost weak ties amid fears of a looming economic crisis in Turkey.