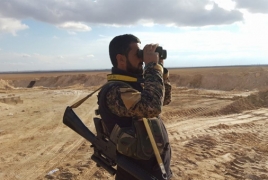 October 3, 2018 - 13:04 AMT
PanARMENIAN.Net - The Syrian Arab Army (SAA) has been involved in a fierce battle with the Islamic State (IS) in the Al-Safa region for several weeks now, Al-Masdar News reports.
On Tuesday, the Syrian Arab Army was able to score a new advance in the Al-Safa region after launching an attack from three different axes.
According to a military source in Sweida city, the Syrian Arab Army's 3rd Corps managed to crack the Islamic State's lines around the Qasr Sheikh Hussein area, resulting in the capture of a number of militant trenches and hideouts.
In order to keep up the pressure on the Islamic State, the Syrian Arab Army has been launching nonstop missile and artillery strikes on the militant group's positions in the Qasr Sheikh Hussein and Al-Habariyah areas.
As shown in the video below, the Syrian Arab Army launched a shilka strike on the Islamic State's positions, resulting in a number of direct hits on the militant group.