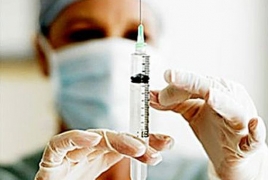 October 10, 2018 - 13:21 AMT
PanARMENIAN.Net - The wife of the Armenian Prime Minister, Anna Hakobyan, has said that she is going to have her daughters vaccinate against human papillomavirus (HPV).
According to her, she has studied the issue for a long time, having in the past published articles on health matters.
Hakobyan said she is confident highly qualified professionals work in the industry.
HPV vaccine is important because it protects against cancers caused by human papillomavirus (HPV) infection. Vaccination is recommended before the start of sexual life among adolescents.
According to the Armenian health ministry, only timely and fully implemented immunization can prevent diseases and complications caused by them.
Most HPV infections cause no symptoms and resolve spontaneously. In some cases, however, they can increase the risk of cancer of the cervix, while vaccines will help prevent such a development.
Three vaccines are available to prevent infection by some HPV types: Gardasil (used in Armenia), Cervarix, and Gardasil 9.
Girls aged 13-14, particularly those born after July 2004, are eligible for immunization, with their number totaling some 16,000 in Armenia.