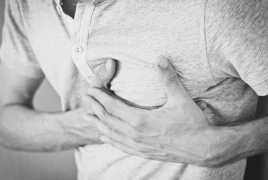 October 11, 2018 - 16:22 AMT
PanARMENIAN.Net - In heart failure, the heart is unable to pump blood effectively throughout the body. One key factor in the development of this condition is calcium dysregulation. A newly discovered molecule that may be able to address this issue could become the next therapeutic target for this heart condition, Medical News Today says.
The heart can contract, relax, and pump blood through the veins effectively, partly due to a process called "calcium cycling." This process allows calcium to circulate in and out of cells.
This cycle is sometimes impaired by a person's age, which can also affect the rate or potency with which the heart muscle pumps out blood.
Calcium dysregulation may therefore lead to the development of heart failure.
So far, researchers have focused on developing therapies targeting a molecule known as SERCA, whose role is to transport calcium ions, ensuring the relaxation of the heart muscle.
In heart failure, SERCA does not function properly, which has led some scientists to look into the possibilities of developing a gene therapy that would increase SERCA expression.
Now, however, specialists from the University of Texas Southwestern in Dallas, and from Loyola University Chicago in Illinois, have discovered a micropeptide, which they named "dwarf open reading frame" (DWORF). The scientists believe that DWORF could pave the way to better treatments for heart failure.
"Our lab recently discovered a micropeptide called [DWORF], which binds directly to SERCA and enhances its activity," explains the lead author of this new study, Catherine Makarewich.