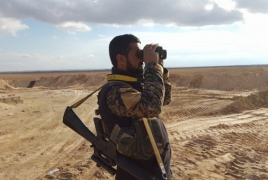 October 24, 2018 - 13:37 AMT
PanARMENIAN.Net - The Syrian army plans to deploy more heavy arms in the demilitarized zone in Northern and Northwestern Syria on Tuesday, October 23 to pave the ground for a large-scale operation against militants in case they insist on remaining in the region. The army says it has already detected their bases and positions, in which heavy weapons are deployed in Idlib province, Farsnews says.
The army has specified the strongholds of heavy arms, tanks, cannons, missiles and mortar launchers in demilitarized zone mentioned in Sochi Agreement.
In the meantime, a field commander said that militants are still reinvigorating their positions and are dispatching more military hardware to the demilitarized zone, adding the terrorists have continued targeting the Syrian army, and government forces are ready to counter them.
The commander said that a group of Ajnad al-Sham, deployed near a Turkish monitoring post in the small town of Sarman, pounded the Syrian Army positions in the town of Kafraya in Eastern Idlib, pursued by a heavy fight between the army and the militants.
The Syrian Observatory for Human Rights (SOHR) reported on Sunday that Turkey failed to convince militant groups to withdraw from the demilitarized zone mentioned in the Sochi Agreements that covers parts of Lattakia, Idlib, Hama and Aleppo provinces a week after the agreement's deadline of October 15.
In the meantime, al-Watan pointed to the failure of Turkey in expelling militants from the demilitarized zone, and said that the Syrian Army's artillery units pounded the movements of Tahrir al-Sham Hay'at militants that tried to prevail over the army's positions in al-Latamina region in Northeastern Hama and in the village of al-Zarzour in Southeastern Idlib.
A number of Tahrir al-Sham militants were killed or wounded in the army's artillery attack.
Analysts believe that Syrian Army is likely to conduct military operation in Northern and Northwestern parts of the country as militant groups have showed no intention to leave the demilitarized zone.