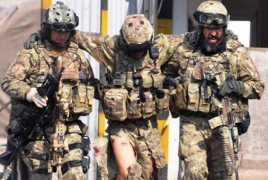 October 31, 2018 - 13:36 AMT
PanARMENIAN.Net - A suicide attack in the city of Kabul claimed the lives of 4 people and injured 7 others on Wednesday, October 31, IRNA reports.
According to Afghanistan Ministry of Interior Affairs, the attacker targeted a car carrying the staff of Pul-e-Charkhi Prison, the Afghan National Detention Facility, east of Kabul.
Three injured kids have so far been transported to hospital, Afghan ministry told the Islamic Republic News Agency (IRNA).
Meanwhile an informed source told IRNA that Taliban had killed about 20 civilians in its attack to Khas Urozgan, a district of Urozgan Province and Malistan district in Ghazni Province, over the past four days.
Since Taliban terrorists are killing people for having weapons and cooperation with the government, hundreds of Afghans have been forced to leave their homes and have taken refuge in Ghazni.
In the meantime, Afghanistan National Directorate of Security in a statement announced on Wednesday that 69 people were arrested for conducting sabotage during parliamentary elections.
According to the statement, 11 members of Taliban, a Daesh (ISIS) terrorist and 25 others with unknown identity have been captured.
As a result of the suicide attack near election commission in Kabul, killed one person and injured six others, Kabul police spokesman Basir Mojahed earlier said.
On October 23, Taliban forces abducted 20 Afghans in Farah Province because of participating in the country's parliamentary elections and killed two of them.