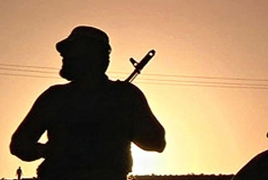 November 7, 2018 - 11:51 AMT
PanARMENIAN.Net - A number of soldiers from the Syrian military were killed or wounded during the fierce clashes in northwestern Syria on Tuesday, November 6, according to Al-Masdar News.
According to a military source in the city of Mhardeh, over 15 soldiers from the Syrian Arab Army (SAA) and National Defense Forces (NDF) were either killed or wounded in the Hama, Idlib, and Latakia provinces.
The majority of the Syrian military's casualties came when the militants in the Al-Ghaab Plain fired a barrage of missiles and artillery shells towards the government positions near the town of Joureen.
In response to the powerful attack by the militants, the Syrian Arab Army responded with a barrage of surface-to-surface missiles towards the militant-held towns of Ziyara and Tal Wasit.
The Syrian Arab Army expanded their assault to the towns of Al-Lataminah and Lahaya shortly after their attack on the militant positions in the Al-Ghaab Plain.
With the militants refusing to leave the Idlib buffer zone, the Syrian Arab Army finds themselves in a tough bind.
Turkey has repeatedly stated that they will not allow the Syrian army to push into the Idlib province, despite the fact that they agreed to force the militants to withdraw from the designated demilitarized zones.
The Syrian army is now awaiting directions from their Russian and Iranian partners, who are their intermediary with the Turkish regime.