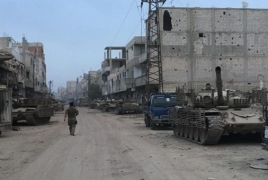 November 19, 2018 - 10:21 AMT
PanARMENIAN.Net - The Syrian forces have thwarted an attempt made by militants to infiltrate army positions in northern Hama as Idlib agreement falters, Al-Masdar News reports.
Positions for the Syrian army in the villages of Khirba and Zaleen on northern Hama countryside have come under attack launched by militants from two axes.
According to a military source, militants of the FSA-affiliate Jaish al-Izza tried to steal in through a field of olive trees. The attack was launched from the rebel-controlled towns of Buwaydah and Maarkabeh located to the south of Syrian army-held areas.
However, government troops stationed near a rocky cliff in the area spotted the assailants, unleashing heavy artillery and missile fire, scoring directs hits and foiling the attack.
The failed offensive killed and wounded scores of rebel militants, forcing them to retreat.
This comes amid reports that the Syrian army is preparing for a large-scale operation in the southeastern countryside of the Idlib province.