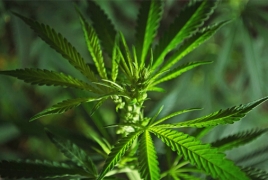 November 20, 2018 - 13:40 AMT
PanARMENIAN.Net - An upcoming cannabis restaurant is all the buzz around Brighton, England. The Canna Kitchen is planning to open December 1, specializing in vegetarian and vegan cuisine — all infused with cannabis oil, TheGrowthOp says.
Of course, nobody will get high off this food, as CBD is the non-psychoactive part of the plant. However, foods will also be infused with CBG (Cannabigerol), and CBN (Cannabinol), the latter of which is the only cannabinoid of the three with traces of THC. As Gizmodo so eloquently puts it: "The Canna Kitchen is only using the non-psychoactive branch of cannabis products, so the only highs on offer will be of the ketogenic kind in the heads of diners who've been avoiding carbohydrates all day."
According to Canna Kitchen's website, they'll offer zaa'tar roast cauliflower with hemp heart tabbouleh, smoked aubergine, sesame cavolo nero and CBD tahini cream; buckwheat and beetroot pancake with roast roots, rocket and CBD cashew cheese; and…well, that's all that's listed on their online menu at this point.
According to their website, they want to 'change the way people think about the cannabis plant', adding:
"Cannabis is a highly nutritious, versatile and powerful herb; it is packed full of flavour, fragrance and natural therapeutic benefit. We at The Canna Kitchen aim to redress dated stereotypes mislabeling this extraordinary natural resource purely as a recreational substance. Our food is contemporary and fresh, using locally sourced and organic produce wherever possible. We ensure any trace elements of THC, (the psychoactive compound found in cannabis), are within legal limits, rewriting the book on traditional canna infusion."