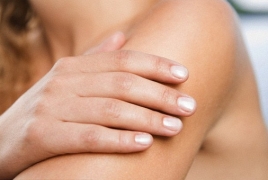 November 22, 2018 - 14:31 AMT
PanARMENIAN.Net - Melanoma skin cancer tumors grow larger and are more likely to metastasize due to interactions between a pair of molecules, according to experiments in mice and human cells. The results may restore the potential for a type of cancer therapy previously abandoned in clinical trials. The results also implicate one molecule already connected to obesity and dementia as a potential cause of metastasis, or spread of cancer cells to other areas of the body, Medical Xpress says.
Melanoma accounts for about 1 percent of skin cancers, but causes a large majority of skin cancer deaths, according to the American Cancer Society. Few treatments exist to prevent melanoma from metastasizing.
A research team led by Associate Professor Beate Heissig at the University of Tokyo Institute of Medical Science has studied tissue type plasminogen activator (tPA) for over a decade. tPA is a protease, a small molecule that can cut proteins. tPA bonds to a larger protein that sits within the membrane barrier of animal cells, called low-density lipoprotein receptor-related protein 1 (LRP1).
Heissig's research team proposes blocking the metastasis-promoting action of tPA by preventing it from connecting to LRP1. Mice without LRP1 had smaller tumors, even when researchers provided extra tPA.
Other studies have linked LRP1 to chronic diseases including diabetes, obesity, and Alzheimer's disease.
"It's surprising that LRP1 is also regulating cancer growth and spread. It's normally a receptor for fat molecules," said Heissig.