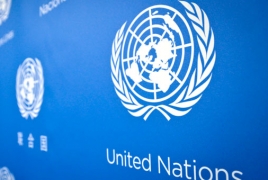 December 1, 2018 - 13:54 AMT
PanARMENIAN.Net - The United Nations in Syria said in a statement that a humanitarian third party mission had been attacked in Syria's eastern Deir ez-Zor province, adding that a driver from a local NGO had been injured in the shooting, Sputnik says.
"The United Nations (UN) in Syria strongly condemns yesterday's attack on a joint humanitarian mission in northeast Syria in the eastern line of Deir-ez-Zor, namely the Shihiel-Busayrah sub-district. A Syrian driver from a local non-governmental organization (NGO) was injured in the attack and is currently receiving medical treatment," the statement read.
The mission's activities in the area were aimed at assessing in advance distribution of humanitarian aid to internally displaced persons (IDPs) living in the province, the statement added.
"Attacks on humanitarian aid workers are a clear violation of International Humanitarian Law and severely impact the humanitarian community's ability to provide life-saving assistance and services to people in desperate need, including women, children and elderly people who are increasingly vulnerable as hostilities continue," the statement pointed out. Since 2011, Syria has been suffering from a military conflict exacerbated by the activities of terror groups that brought the country to the brink of a humanitarian catastrophe.