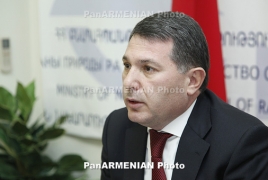 December 3, 2018 - 11:04 AMT
PanARMENIAN.Net - Armenia's Prosecutor General, Artur Davtyan, has asked the National Assembly to lift the immunity of lawmaker Aram Harutyunyan and allow an investigation into whether he took $14 million in bribes.
According to the Prosecutor's Office, back in 2008 Harutyunyan who served as the country's Minister of Nature Protection, demanded and received $14 million in bribes from a person identified as S. H. to provide licenses for the study and exploitation of 10 mines of non-ferrous metals in the provinces of Syunik, Gegharkunik, Lori and Kotayk.
The Prosecutor's Office added that S. H. withdrew $6 million from the bank and transferred the money to Harutyunyan through a mediator between January and November 2008, while the remaining $8 million were transmitted by bank transfer.
The document adds that Harutyunyan then opened bank accounts in the names of other persons in another country to legalize illegally acquired property (money laundering), committing grave crimes under Armenia's Criminal Code.
At the same time, it has been revealed that Harutyunyan now owns several private houses, a 7-storey building near the Republic Square, a restaurant, a public building worth AMD 427 million (more than $878,000) in Yerevan, as well as a dozen agricultural land plots in Kotayk province.
He had been declared more than $ 1.5 million.