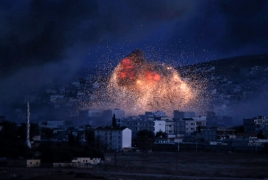 December 3, 2018 - 12:10 AMT
PanARMENIAN.Net - The Syrian military seized a large quantity of weapons that were left behind by militants in the northern countryside of Homs this past summer, Al-Masdar news says.
According to the Syrian Arab News Agency (SANA), the military uncovered the weapons cache while combing through the town of Al-Holeh in the northern countryside of the Homs province.
Among the weapons seized by the Syrian military were several rounds of ammunition, assault rifles, RPGs, mortar shells, and materials to make explosives.
Another weapons cache was seized by the Syrian military during a combing operation in the Homs Governorate town of Kafr Laha.
Recently, the Syrian military has been finding several caches of weapons that have been either hidden or abandoned by the militants in the Dara'a, Damascus, Homs, and Al-Sweida governorates.
Many of the caches have contained large quantities of foreign-made weapons from countries like the United States, Israel, and France.