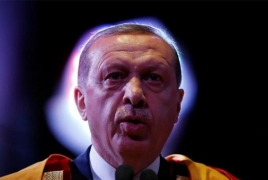 January 8, 2019 - 15:32 AMT
PanARMENIAN.Net - Turkish President Recep Tayyip Erdogan continued his recent spate of hostile rhetoric against the Greek people by threatening to throw them into the sea. The remarks were made during a speech he gave in Smyrna (Izmir) on Saturday, January 5, Greek Reporter reveals.
Erdogan quoted a Turkish song where he repeated the line, "I'll throw the Greeks into the sea."
The line is part of a verse from a Turkish folk song which was written during the years of the Asia Minor Catastrophe. Erdogan in all likelihood repeated the line in front of his audience in the Saturday speech in an effort to score political points ahead of the Turkish municipal elections in March.
Smyrna is a traditional stronghold of the opposition, and the Turkish president is hoping to gain their votes, using an extreme, nationalistic approach.
In the song, Greeks are described as wicked and "foxes", while the Turks are referred to as "lions".
Other lyrics of the song include the lines "The wretched Greek cannot achieve his purposes. They say do not pass. I'll go to Smyrna, I'll throw the Greeks into the sea."