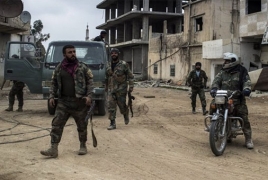 January 18, 2019 - 10:18 AMT
PanARMENIAN.Net - The Syrian Arab Army (SAA) eliminated an entire group of militants that were attempting to infiltrate from the U.S.-controlled Al-Tanf Zone in southern Syria, Al-Masdar News cited a source as saying.
According to the source, the armed militants were trying to sneak past the Syrian Arab Army's patrol units when they were spotted by the military.
The militants then opened fire on the Syrian military in response, prompting a short firefight that resulted in the death of all but three of the armed combatants.
The remaining three militants were arrested by the Syrian Arab Army and later transferred to the military police nearby.
The source added the Syrian military is not sure what group the militants were apart of.