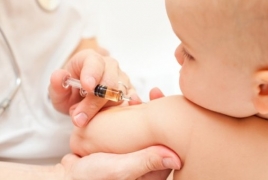 January 18, 2019 - 12:26 AMT
PanARMENIAN.Net - The World Health Organization (WHO) has created a list of health threats for the New Year. Interestingly, Anti-vaccination movement has featured among the top threats to the world. The anti-vaccination movement comprises of a group of people who are reluctant to getting vaccinated and refuse to vaccinate themselves or their children against vaccine preventable infections, News medical reports.
The WHO said in a statement, "Vaccination is one of the most cost-effective ways of avoiding disease — it currently prevents 2-3 million deaths a year, and a further 1.5 million could be avoided if global coverage of vaccinations improved." The WHO says that the term "vaccine hesitancy" has affected a significant number of people across the world and this has led to devastating consequences. For example cases of measles have risen by 30 percent among the children across the developed nations in the recent years because of anti-vaxxers who have not vaccinated their children against this infectious disease. The WHO says that even in nations where the disease was close to eradications, there have been a resurgence of cases.
According to the WHO the reason behind some people turning anti-vaccination is complex. There are various reasons including "complacency, inconvenience in accessing vaccines, and lack of confidence", the experts add. There is a deluge of misinformation regarding vaccination and its purported uselessness and harm circulating online. This gathers more followers into the anti-vaxxers group. Vaccines prevent 2 million to 3 million deaths a year around the world says the report.
The WHO also deemed air pollution and climate change another top threat to global health this year. Nine out of 10 people breathe polluted air every day, according to the agency, which said it considers air pollution "the greatest environmental risk to health" in 2019.
Microscopic pollutants in the air can penetrate the lungs and enter the blood stream, damaging the lungs, heart and brain. An estimated 7 million people die prematurely each year due to exposure to these fine particles in polluted air that lead to diseases such as cancer, stroke, heart disease and lung disease, according to the WHO.
"Around 90 percent of these deaths are in low- and middle-income countries, with high volumes of emissions from industry, transport and agriculture, as well as dirty cookstoves and fuels in homes," the agency said.
The main cause of air pollution -- the burning of fossil fuels -- is also a major factor in climate change, which is detrimental to people's health as well.
"Between 2030 and 2050, climate change is expected to cause 250,000 additional deaths per year, from malnutrition, malaria, diarrhoea and heat stress," the WHO said.