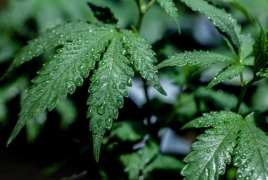 January 19, 2019 - 16:38 AMT
PanARMENIAN.Net - The booming business of legalized marijuana may be seeing a favorable shift from the Trump administration. Attorney General nominee William Barr's testimony this week signaled potential relief for business owners in states that have enacted various laws legalizing cannabis products, CBS News reports.
Marijuana remains illegal under federal law, and there's no consensus in Congress on a recent proposal to change that.
In front of the Senate Judiciary Committee, Barr said he doesn't plan on using federal resources to "go after" companies if they are complying with state law. That would be a reversal from the approach taken by his predecessor, former Attorney General Jeff Sessions, who vowed to pursue federal violations more aggressively.
According to Erik Altieri, executive director of the National Organization for the Reform of Marijuana Laws (NORML), Barr's stance is a good sign for advocates but it remains to be seen if his actions will follow through on his pledge.
"It's encouraging but we do need to remain vigilant to keep him to hold his word to the American people," Altieri told CBSN's Reena Ninan. His organization is a non-profit that supports responsible pro-marijuana policy.
While 10 states and Washington, D.C. have legalized recreational adult use of marijuana, and more than 20 other states allow some medical uses, U.S. attorneys can still prosecute its possession and sale under federal law. Last year, Sessions reversed an Obama-era policy that encouraged federal prosecutors to take a hands-off approach in states where marijuana is legal. This put business owners back at higher risk of coming under federal scrutiny.
While Barr's stance may seem like a departure from his previous get-tough approach to drug policy, he made it clear during his testimony that he doesn't support federal legalization.
"I think it's a mistake to back off on marijuana," said Barr. "However, if we want a federal approach, if we want states to have their own laws, then let's get there and let's get there the right way." He said Department of Justice policy should align with congressional legislation.