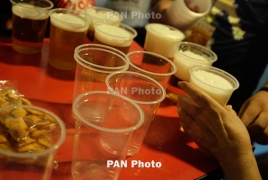 January 24, 2019 - 11:46 AMT
PanARMENIAN.Net - Craving for a tub of rum-and-raisin ice cream at midnight?
From now on, it will be legal to buy such non-beverage products containing alcohol from stores regardless of the hour, said Singapore's Ministry of Home Affairs (MHA), according to The Strait Times.
The move comes after the ministry reviewed the Liquor Control (Supply and Consumption) Act.
The Act was put in place in 2015 to restrict the sale hours of liquor at retail outlets and consumption of liquor in public places, applying to all products containing more than 0.5 per cent alcohol, whether food or beverages.
Under the Act, such products cannot be sold from 10.30pm to 7am.
The consumption of liquor in public places is also banned from 10.30pm to 7am, to minimise public disorder.
MHA, however, said yesterday that it will be exempting all non-beverage food products from the licensing requirements of the Act from today.
Beverages will continue to be regulated, given the significantly higher risk of abuse, said the ministry.
With this change, all non-beverage food products containing alcohol can be sold and consumed after 10.30pm in public places.
The decision, made in consultation with the Ministry of Trade and Industry, came after feedback from the public and industry stakeholders that certain products containing alcohol need not be regulated under the Act as consumers were unlikely to abuse them.