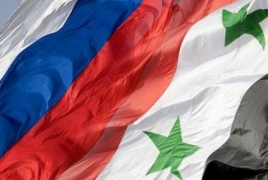 January 29, 2019 - 10:30 AMT
PanARMENIAN.Net - Three weapons caches holding more than 250 firearms and more than 50,000 munitions have been exposed by officers of the Russian Center for reconciliation of the conflicting sides and Russia's military police in Syria since the beginning of the year, the center's chief Sergei Solomatin said on Monday, January 28, TASS reports.
"Throughout January 2019, thanks to the efforts of the Russian Center for reconciliation of the conflicting sides and Russian military police, three arms and munitions caches left behind by militants, have been exposed. The caches held more than 250 firearms, more than 50,000 munitions of various calibers, more than 300 land and anti-tank mines of foreign manufacture," he said adding that the center's officers organized safe transportation of these weapons and munitions and handed them over to Syrian security agencies.
He also said that the Syrian authorities continue work to amnesty people dodging military service, including refugees and former members of illegal armed groups. Thus, as of January 27, 2019, nearly 33,000 people were amnestied, he added.
Nevertheless, he said, militants operating in the Idlib de-escalation zone continue to violate the ceasefire. Thus, throughout the day, shelling episodes were reported on the settlements of Qubeibat Abu al-Hoda, Mgair and Umm Hartan in the Hama governorate, and on Aleppo's research center (twice).
The Russian reconciliation center continues to fulfill assigned tasks after the completion of the military campaign in Syria. The center's officers regularly travel around the country's liberated areas to assess the humanitarian situation. The main efforts of the Russian military are now focused on assistance to the refugees returning to their homes.