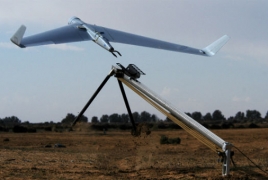 February 5, 2019 - 12:43 AMT
PanARMENIAN.Net - The Israeli Defense Ministry on Monday, February 4 allowed an aircraft manufacturer suspected of testing one of its "suicide drones" against the Armenian military on behalf of Azerbaijan in 2017, in violation of Israeli law, to again sell the unmanned aerial vehicles to the Azeris, The Times of Israel.
At the same time, the export licenses of three senior officials from the defense contractor Aeronautics Ltd. — CEO Amos Matan, deputy CEO Meir Rizmovitch and a third, unnamed, employee — were to be suspended by the Defense Ministry beginning in April, the company said.
The announcement was made after the Defense Ministry said last week that it had decided to revoke the export licenses of the three senior officials.
Many details of the case were suppressed under a court-issued gag order, which remained in place as of Monday.
In August 2017, reports emerged that the company was suspected of using the Orbiter 1K kamikaze drone to attack Armenian forces in the disputed Nagorno-Karabakh region during a demonstration for Azeri officials. A copy of the complaint was first leaked to the Maariv newspaper.
In August 2018, the State Attorney's Office also announced that it intended to indict Matan, Rizmovitch, and other senior officials in the company in connection with the alleged illegal live-fire test.
According to the complaint against the company, while demonstrating the kamikaze drone to the Azerbaijani military in July 2017, the company was asked to carry out a live-fire test of the system against an Armenian military position. The two countries have been been fighting sporadically for nearly 25 years.
Such a test would be illegal under Israeli law, as it would require a seldom-granted permit to carry out demonstrations against real targets. In this case, Aeronautics Defense Systems would have been even less likely to receive such a permit, as Israel does not consider Armenia to be an enemy state.
The two Israelis operating the two Orbiter 1K drones during the test refused to carry out the attack, despite threats from their superiors, Maariv reported.
Two higher-ranking members of the Aeronautics Defense Systems delegation in Baku then attempted to carry out the Azerbaijani request, but, lacking the necessary experience, did not directly hit their targets, the report said.
In 2016, Azerbaijan used another Israeli kamikaze drone, an Israeli Aerospace Industries Harop-model, in an attack on a bus that killed seven Armenians.