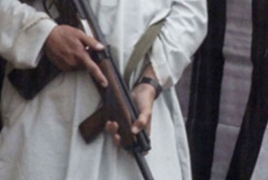 February 8, 2019 - 11:09 AMT
PanARMENIAN.Net - Russia is registering terrorists' preparations in Syria for large-scale military provocations in the province of Idlib, Russian Foreign Ministry spokeswoman Maria Zakharova said on Thursday, February 7.
The diplomat pointed to the incessant raids by militants of the Hayat Tahrir al-Sham group (one of the names of the Jabhat al-Nusra terrorist grouping outlawed in Russia) against Syrian troops in the province of Idlib. Overnight to February 5, the terrorists launched a series of offensives on the positions of the government forces in the area of Aleppo, she said.
"Over the past week alone, the Russian side has registered 35 such cases while the extremists are not only shelling neighboring districts but are also preparing full-fledged offensive operations," the spokeswoman said.
"According to incoming information, late in January, al-Nusra terrorists turned to their so-called allies from the Hora al-Din grouping and the Turkistan Islamic Party [the extremist organization consisting of Uyghur mercenaries] operating in Idlib with a call to start joint preparations for the possible launch of a large-scale military operation," the diplomat said.
As the spokeswoman stressed, the terrorists aim to establish control of the entire de-escalation zone in Idlib.
"It is obvious that the terrorists' intended goal is to gain control of the entire Idlib de-escalation zone," she noted.
"According to incoming information, they are planning to set up a single operational headquarters with the centralized command to comprise field commanders of all the illegal armed formations active in the zone," the spokeswoman said.
Moscow notes with alarm that the terrorists are storing up chemical warfare agents along the entire line of engagement with the Syrian troops while the White Helmets are rendering active support to the terrorists in that, the diplomat noted.
"We stress once again the inadmissibility of the provocations being prepared with the use of chemical weapons and aimed at giving the green light to Damascus' opponents from Western countries for a new aggression against the legitimate authorities of Syria. We are urging the patrons and sponsors of the White Helmets to give up dangerous and destructive intensions," the Russian Foreign Ministry spokeswoman said.