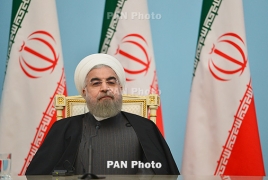 February 15, 2019 - 14:17 AMT
PanARMENIAN.Net - Russian President Vladimir Putin held a joint press conference with his Turkish and Iranian counterparts Recep Tayyip Erdogan and Hassan Rouhani after trilateral discussions on the Syrian settlement in Sochi on Thursday, February 14, Al-Masdar News reports.
Putin said that the presidents agreed to continue the Astana format talks, and also "agreed to work together to promote the early launch of the constitutional committee."
Rouhani stated that according to Iranian information, the U.S. plans "to continue interfering in the domestic affairs in Syria regardless of how many American boots remain on the Syrian ground."
"The illegal, unlawful and illegitimate interference by the Zionist regime in Syria also is a matter of concern for Syrians and for other countries in the region," the Iranian leader added.
Erdogan said, meanwhile, that more than three million Syrian refugees are currently in Turkey.
"Turkey has the most refugees of any country in the world, in these difficult times we have helped our brothers, no matter what their religious or ethnic background," he said.