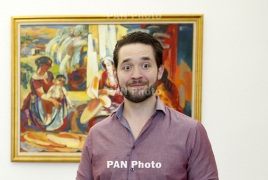 February 21, 2019 - 17:54 AMT
PanARMENIAN.Net - Reddit co-founder Alexis Ohanian has given his outlook on the 2020 Democratic presidential race, pointing to a candidate who has flown under the radar.
"I've been most intrigued by the fact that the Congresswoman from Hawaii, Tulsi Gabbard, has been all but overlooked by most of media," he told Editor-in-chief Andy Serwer in a conversation that will air on Yahoo Finance in an episode of "Influencers with Andy Serwer".
"If I have any lessons learned from watching social, particularly Reddit, but watching social during Trump's rise, during Obama's rise, it's that there are a lot of these signals you see online that bubble up."
He gave one other reason for his interest in Gabbard.
"She is the first millennial presidential candidate," he said.
Pro-Armenian congresswoman Gabbard has become the latest Democrat to officially enter the race for the White House, pledging to confront politicians who have embroiled the US in costly conflicts abroad.
Congressional Armenian Caucus Co-Chairman Frank Pallone (D-NJ) and House Foreign Affairs Committee member Tulsi Gabbard (D-HI) traveled to Artsakh (Nagorno Karabakh) on September 20, 2017, where, alongside government officials and ANCA Chairman Raffi Hamparian, they witnessed firsthand the independent Republic's remarkable economic, democratic, and cultural progress.