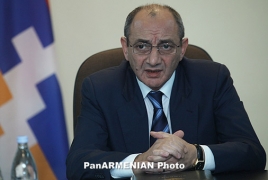 April 24, 2019 - 14:01 AMT
PanARMENIAN.Net - On April 24, Artsakh (Nagorno Karabakh) President Bako Sahakyan and top officials visited the Stepanakert Memorial Complex and laid flowers at the monument dedicated to the memory of the innocent victims of the Armenian Genocide.
April 24, 1915 is the day when a group of Armenian intellectuals was rounded up and assassinated in Constantinople by the Ottoman government. On April 24, Armenians worldwide are commemorating the 104th anniversary of the Genocide which continued until 1923. Some three dozen countries, hundreds of local government bodies and international organizations have so far recognized the killings of 1.5 million Armenians as Genocide. Turkey denies to this day.
In a message spread earlier, Sahakyan said the crime has been among the most horrific and monstrous programs against humanity, a stigma for future generations.
"Our unity makes us stronger and persistent, resilient and steadfast on the way to strengthen and develop our Motherland, cement the independent Armenian statehood. This is the guarantee of our people's bright future; this is our response to genocides," he said.
"We are deeply grateful to all those who stood beside the Armenian people during those hard days, gave a helping hand to our orphaned compatriots deprived of homeland and shelter. We are grateful to those who are with us today as well, raise their voices for recognition and condemnation of the Genocide, the protection of fundamental human rights and freedoms, the victory of kindness and justice."