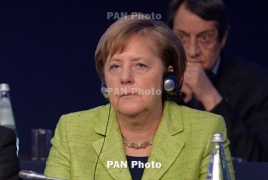 May 21, 2019 - 12:19 AMT
PanARMENIAN.Net - Chancellor Angela Merkel was treated to the full military works in Munster on Monday, May 20, on a visit to the Bundeswehr's 9th Armored Demonstration Brigade, which is this year providing the ground forces for NATO's Very High Readiness Joint Task Force (VJTF), Deutsche Welle reports.
Much of the major hardware the Bundeswehr has to offer took part in an impressively coordinated half-hour display, which the chancellor watched through binoculars alongside General Eberhard Zorn, the highest ranking German soldier, and Lieutenant General Jörg Vollmer, chief of staff of the German army.
Read more: NATO tries to prevent an arms race
The display itself involved reenactments of full-on assaults involving multiple armored vehicles, complete with tanks crossing water-filled ditches, helicopter rescues and in-flight refueling operations. Tiger helicopters, Tornado fighter planes, several Leopard 2 battle tanks, as well as amphibious armored vehicles, motorcyclists and bridge-building trucks, all took part.
Merkel herself arrived at the parade ground in an Enok military police vehicle, before posing for a number of photos in front of various ranks of soldiers and pieces of heavy equipment. She also had lunch with some of the soldiers.