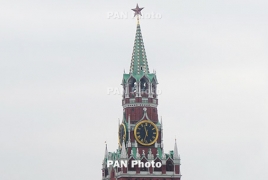 July 6, 2019 - 15:49 AMT
PanARMENIAN.Net - Moscow is planning to build the tallest apartment block in Europe, which will have 101 storeys and stand 1,330 feet tall, the Mail Online says.
Authorities in the Russian capital announced the 'complex and ambitious project' today, promising it would be built 'with high quality and on time'.
The new building will be the tallest in Moscow and include shops, restaurants and a children's leisure centre, city bosses revealed.
Above the high-rise apartments there will also be an observation deck on the 100th floor.
No estimate was given for how much the tower will cost or how long it will take to complete.
Some 2,000 people will be employed to build the tower, a statement said, adding that it would include a children's leisure area and a business centre.
The building will have 101 storeys above ground and three below, providing space for underground parking.
'This is a unique object in terms of its functional, visual and technological parameters' with no parallel in Europe, said Albert Suniyev of construction firm Mosinzhproekt.
The firm has also won contracts to build 79 new stations on the Moscow metro and work on the Luzhniki Stadium, which hosted the 2018 World Cup final.