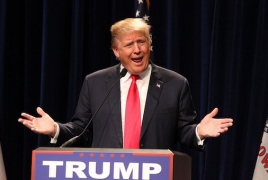 September 25, 2019 - 11:21 AMT
PanARMENIAN.Net - Democrats in the U.S. House of Representatives on Tuesday, September 24 launched a formal impeachment inquiry into President Donald Trump, accusing him of seeking foreign help to smear Democratic rival Joe Biden ahead of next year's election, Reuters reports.
The inquiry ensures a partisan fight in Congress and on the presidential campaign trail in coming months, energizing the most committed Republican and Democratic supporters and overshadowing the Democratic race for the nomination to face Trump in the November 2020 election.
House Speaker Nancy Pelosi announced the inquiry after a closed-door meeting with Democratic lawmakers, saying Trump's actions undermined national security and violated the U.S. Constitution.
"The president must be held accountable. No one is above the law," said Pelosi, who for months had been reluctant to embrace an impeachment effort.
Trump fired back quickly on Twitter, calling the inquiry "Witch Hunt garbage."
Pelosi's change of heart followed reports that Trump had pressured Ukrainian President Volodymyr Zelenskiy in a July 25 phone call to investigate Biden, the Democratic presidential front-runner, and his son Hunter, who had worked for a company drilling for gas in Ukraine.
Trump promised on Tuesday to release a transcript of his phone call. He has acknowledged he discussed Biden in the call, but denied he withheld nearly $400 million in U.S. aid to Ukraine as leverage to get Zelenskiy to launch a probe that would damage Biden, who leads opinion polls in the Democratic presidential race.