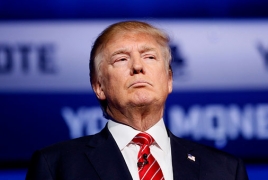 October 10, 2019 - 14:21 AMT
PanARMENIAN.Net - U.S. President Donald Trump defended his decision to withdraw troops from Syria and enable a Turkish offensive against U.S.-backed Kurdish fighters in the region by noting the Kurds didn't fight alongside the U.S. in the second world war, The Guardian reports.
The U.S. president told reporters that the Kurds "didn't help us in the second world war, they didn't help us with Normandy as an example – they mention the names of different battles, they weren't there", in a staggering comment following the signing of executive orders on the federal regulation at the White House on Wednesday.
"We have spent a tremendous amount of money helping the Kurds," the president said. "They're fighting for their land. When you say they're fighting with the U.S., yes. But they're fighting for their land."
Kurdish forces fought alongside the U.S. against the Islamic State for nearly five years, losing roughly 11,000 fighters.
Trump said he learned that the Kurds didn't help in Normandy from a "very, very powerful article", apparently referencing a column by conservative opinion writer Kurt Schlichter.
"Alliances are very easy. But our alliances have taken advantage of us," Trump also told reporters. Misrepresenting how Nato works, he added: "If you look at how much money we spend on Nato and how much countries from Europe who are a much bigger beneficiary than we are."