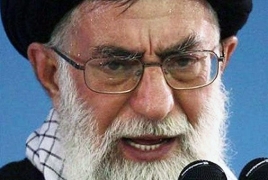 January 17, 2020 - 16:08 AMT
PanARMENIAN.Net - The Revolutionary Guards can take their fight beyond Iran's borders, the supreme leader says, responding to the U.S. killing of a top general and to unrest at home over the accidental downing of an airliner, according to the Australian Associated Press.
In his first Friday prayers sermon in eight years, Ayatollah Ali Khamenei also told thousands of Iranians who chanted "Death to America" that European states could not be trusted after they launched a nuclear agreement dispute mechanism.
"Resistance must continue until the region is completely freed from the enemy's tyranny," Khamenei said, in a reference to the United States that renewed his call for U.S. troops to leave neighbouring Iraq and the wider Middle East.
Washington's withdrawal in 2018 from Tehran's nuclear deal with world powers and the reimposition of U.S. sanctions has triggered an escalation in tensions over several months that briefly led to open conflict in January.
U.S. President Donald Trump ordered the killing in a drone strike on January 3 of Qassem Soleimani, commander of the Quds Force, a unit of the Revolutionary Guards responsible for expanding Iran's influence abroad. He built up regional militias that Washington has blamed for attacks on U.S. forces.
Iran responded with missile strikes on U.S. targets in Iraq on January 8, injuring although not killing U.S. troops.
"The fact that Iran has the power to give such a slap to a world power shows the hand of God," said Khamenei, in a reference to the strikes, adding that the killing of Soleimani showed Washington's "terrorist nature".
"The Quds Force is a humanitarian organisation with human values that protects people across the region," Khamenei said. "They are fighters without borders."