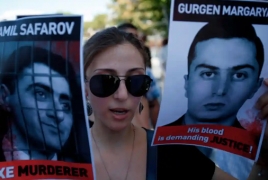 May 26, 2020 - 11:35 AMT
PanARMENIAN.Net - Relatives of a murdered Armenian army officer killed with an axe by an Azerbaijani counterpart on a Nato training programme in Budapest are hoping the European Court of Human Rights will hand down rulings against Hungary and Azerbaijan on Tuesday, May 26.
The Guardian has unveiled an article about the case of Gurgen Margaryan, who was murdered in February 2004 by Ramil Safarov, while both men were attending a three-month Nato English-language training course in the Hungarian capital.
At Safarov's subsequent trial, he said he was motivated by hatred for Armenia and Armenians, due to the war between the two countries. He was jailed for life by the Budapest court. However, in 2012 Hungary sent Safarov back to Azerbaijan to complete his sentence. On arrival, he was promptly pardoned, released and given a hero's welcome.
"Though this heinous incident happened 16 years ago, it still remains alive in my memories," said Hayk Makuchyan, another Armenian officer on the course, whom Safarov had also wanted to kill. He and Margaryan's relatives are the claimants in the current ECHR case. They are not seeking financial compensation from either government.
"We have sought justice rather than compensation. What matters to us is the acknowledgment of the fact of grievous violations, putting an end to impunity and the prevention of hatred against Armenians," said Makuchyan, in emailed comments.
Nazeli Vardanyan, the claimants' lawyer, said although Margaryan's family were struggling for money, they made it clear they did not want financial compensation. "They only want justice," she said.