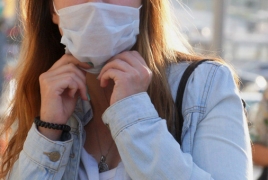 June 16, 2020 - 18:58 AMT
PanARMENIAN.Net - People under 20 years old are estimated to be about half as susceptible to the Covid-19 infection as those aged 20 or over, CNN cited a new modeling study published Tuesday in the journal Nature Medicine as saying on Tuesday, June 16.
The research, conducted by Nicholas Davies, Rosalind Eggo and colleagues at the London School of Hygiene and Tropical Medicine, used transmission models to estimate disease susceptibility and the relation of age to cases.
The researchers estimate that clinical symptoms manifest in around 21% of 10- to 19-year olds. This estimate rises to around 69% in people aged 70 or over.
They write that children could be less susceptible to catching Covid-19 from contact with an infected person and could experience less severe disease.
The authors said more research is needed into transmission caused by asymptomatic infections, but interventions to curb transmission that are aimed at children might have only a relatively small impact – especially if transmission from asymptomatic infections is low.
Countries with lower average population age could have fewer cases of Covid-19 per capita, the study said.