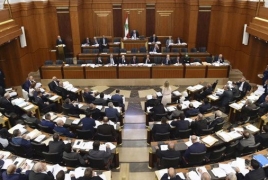 July 23, 2020 - 18:57 AMT
PanARMENIAN.Net - The Lebanese parliament will vote on designating a day for the commemoration of the Armenian Genocide, Lebanese-Armenian journalist Araz Bedros told PanARMENIAN.Net on Thursday, July 23.
"My law proposal [has been] admitted to the Lebanese parliament for the Armenian Genocide to be considered a remembrance day in Lebanon," Bedros captioned photos of documents confirmed by the parliament, sharing them on Twitter.
"Hopefully, the law will pass since it's not a day of grief, the country will not be closed," Bedros explained.
"It's a day when schools and universities should educate students about genocide, and specifically the Armenian Genocide."
No specific date has been set for the vote though.
April 24, 1915 is the day when a group of Armenian intellectuals were rounded up and assassinated in Constantinople by the Ottoman government. On April 24, Armenians worldwide commemorated the 105th anniversary of the Genocide, which continued until 1923. Some three dozen countries, hundreds of local government bodies and international organizations have so far recognized the killings of 1.5 million Armenians as Genocide. Turkey denies to this day.