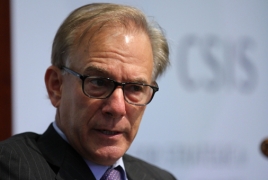 July 24, 2020 - 12:54 AMT
PanARMENIAN.Net - Journalist and novelist David Ignatius has unveiled a fresh article on the recent escalation on the border between Armenia and Azerbaijan, suggesting that the United States and Russia have now a rare opportunity to work together on a peace deal.
"Here's an interesting trivia point for diplomacy watchers: Russia and the United States, usually bitter antagonists, are co-chairs of a group that's seeking to broker a peace deal between two nations involved in a not-so-trivial war," Ignatius said in the feature published on the Washington Post.
Russia and the United States are two of the co-chairs of the Minsk Group, which has been seeking a settlement of the conflict.
While Turkey has threatened to intervene in the Armenia-Azerbaijan battle, Russian and U.S. diplomats responded in similar language to the outbreak of shooting, urging the sides to resume negotiations with the Minsk Group as co-chairs, the journalist says.
A diplomatic engagement through the Minsk Group co-chair framework would be a good idea, Ignatius maintains.
"It's the one significant diplomatic arena where Moscow and Washington still actively collaborate. Armenian and Azerbaijani officials seem eager for such great-power mediation," he said.
"Letting this small war fester until it becomes a big one, with the danger of thousands of Armenian and Azerbaijani deaths, would be a mistake. Trying to settle such feuds is often a thankless task, but in this case it's worth a try."