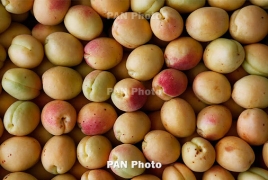 July 27, 2020 - 11:55 AMT
PanARMENIAN.Net - The recent escalation on the border between Armenia and Azerbaijan has resulted in a small-scale economic war in Moscow, The Guardian says in a fresh article, as new violence provokes anger and boycotts throughout the two countries' diasporas.
When Saribek Gevorkyan heard reports that Food City, a vast Moscow-based food distribution centre owned by entrepreneurs from Azerbaijan, had suddenly blocked Armenian farmers and turned away 50 truckloads of fresh apricots, he took action. He offered space for free in his own shopping centre to the farmers, helping to host a fruit rescue mission that its organisers have dubbed "Operation Apricot".
The situation on the border between the two countries escalated on July 12, with Azerbaijan launching several unsuccessful infiltration attempts throughout the next week. The Azerbaijani military also used artillery and combat drones to target civilian homes in several border settlements in Armenia. Five servicemen of the Armenian army were killed, while Azerbaijan reported 12 deaths.
"Their aftershocks have rippled around the world, sparking violent skirmishes among diaspora communities in the US and Europe and a small-scale economic war in Moscow," the article says.
"The violence appears to be getting worse. In Moscow, Russian media reported that at least 25 people were arrested in a mass brawl. Video footage appeared to show a group of men targeting the drivers of cars with Armenian licence plates. One Armenian man was reportedly stabbed during the attacks."
The Guardian says there have been a few hopeful moments: "To save the freshly harvested apricots from spoiling, organisers in Moscow's Armenian diaspora sent out an online alert on behalf of several shopping centres that had given free space to the farmers to sell their stock.
"The online messages attracted thousands of people, launching an impromptu celebration of the apricot, an Armenian staple. At one shopping centre, people danced a traditional kochari as buyers lugged away crates of fresh fruit."
While the "apricot war" has ended, there are new reports of Azeri-run businesses barring Armenian products. On Thursday, the Armenian ambassador to Moscow told the news site RBC that Armenian canned foods, mineral water and cognac had all disappeared from a major Moscow supermarket chain owned by an Azeri businessman.