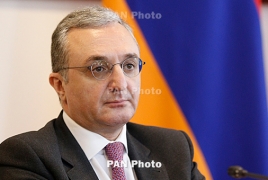 July 29, 2020 - 16:28 AMT
PanARMENIAN.Net - Israeli weapons sold to Azerbaijan are used to target Armenian civilian infrastructure and arms sales between the country should be stopped immediately, Armenian Foreign Minister Zohrab Mnatsakanyan has said.
In an interview with The Jerusalem Post, Mnatsakanyan said that while Israeli-Armenian relations have improved in recent years – the Armenian president was in Israel in January – Israel's continued supply of advanced weaponry to Azerbaijan remains an outstanding issue for the countries.
Azerbaijan is a known close ally of Israel, supplies Israel with about 40% of its oil needs and is a longtime customer of an assortment of Israeli defense companies, buying drones, missiles and other advanced weapon systems. In 2016, Azerbaijani President Ilham Aliyev revealed that his country has signed $5 billion worth of long-term contracts over the years to buy weapons and security equipment from Israel.
"Arms trade to Azerbaijan is fatal, because Azerbaijan never hesitates to use those weapons against civilian infrastructure, the civilian population," Mnatsakanyan told the Post. "We will consistently pursue this issue, it will always be an integral part of our agenda both on bilateral and multilateral platforms. Israel should stop this deadly business with Azerbaijan."
Asked about reports that Armenia has successfully downed a number of Israeli-made drones operated by Azerbaijan, the foreign minister said that the country was acting against Azerbaijan with disregard to where those weapons came from.
"For us those weapons are deadly as they kill our people," Mnatsakanyan said. "Our military has neutralized Azerbaijani weapons regardless of their perceived origins. Facts about weaponry obtained by Azerbaijan and used against civilian infrastructure and population of Armenia and Nagorno-Karabakh are numerous and the July events serve as an additional proof."
The situation on the border between Armenia and Azerbaijan escalated on July 12, with Azerbaijan launching several unsuccessful infiltration attempts throughout the next week. The Azerbaijani military also used artillery and combat drones to target civilian homes in several border settlements in Armenia. Five servicemen of the Armenian army were killed, while Azerbaijan reported 12 deaths. In recent days, though, the situation has been relatively calm.