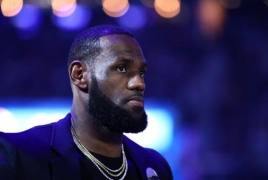 July 30, 2020 - 18:04 AMT
PanARMENIAN.Net - For the next two-and-a-half months, the top basketball players in the U.S. will all be residing at Disney World in Orlando, Florida, CNN reports.
And star including the Lakers' LeBron James and the Trail Blazers' Damian Lillard have compared it to a prison sentence, both using slang on social media, saying they were off "to do a bid."
It's probably not the kind of gratitude the NBA was expecting when they wrestled with the biggest logistical challenge ever faced in the 74-year history of the league: how to resume and finish up a season amidst a global pandemic in a country which has struggled in the fight against Covid-19.
Certainly Philadelphia 76ers coach Brett Brown struck a more positive note.
I think what the NBA has done ... in the environment we are all in is spectacularly brilliant," Brown told reporters. "I think it's elite -- I have zero complaints about anything that might prohibit us from doing our job."
And according to UFC boss Dana White, the 'bubble' approach is currently the only way forward for US sports.
"This isn't going to work outside of a bubble," White told CNN Sport earlier this week after the UFC staged a series of bouts on Yas Island in Abu Dhabi.
"You've got to have the bubble, you have to put people in lockdown, people can't be sneaking out, people can't go home. You know, in Abu Dhabi, the people [who worked with UFC] ... haven't seen their families in two months."
So far the NBA's approach looks to be working. On Wednesday, the National Basketball Association (NBA) and players' union announced that none of the 344 players tested since July 20 had tested positive for the coronavirus.
The United States has reported almost 4.5 million coronavirus cases so far, the biggest number of Covid-19 infections in the world.