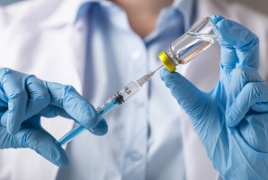 August 14, 2020 - 15:48 AMT
PanARMENIAN.Net - The British government has secured early access to 90 million doses of two "promising" vaccine candidates, CNN cited the Department for Business, Energy & Industrial Strategy as saying Friday, August 14.
According to the "in-principle" agreement, Britain has secured 60 million doses of the Novavax vaccine and 30 million doses of the Janssen vaccine.
Ministers have also agreed "in principle" to co-fund a global clinical study of the Janssen vaccine. It will examine whether two doses of their vaccine candidate given to participants provides long-term protection against coronavirus.
Novavax will conduct a Phase 3 clinical trial of the vaccine working with the UK's National Institute for Health Research (NIHR), and has plans to manufacture some of the vaccine in Britain.
"This will ensure that, once available, the vaccine can be supplied to the British public as soon as possible," the UK government statement said.
"If the vaccines are safe and successful in clinical trials, both could be delivered to the UK in mid-2021. They would be given first to priority groups such as frontline health and social care workers, ethnic minorities, adults with serious diseases, and the elderly."
The UK has so far secured access to six different vaccine candidates across four different vaccine types, the government says.
"The government's strategy to build a portfolio of promising vaccine candidates will ensure we have the best chance possible of finding one that works," Business Secretary Alok Sharma said on Friday.