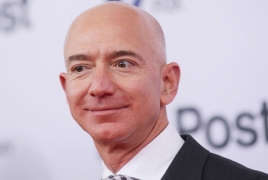 August 26, 2020 - 17:54 AMT
PanARMENIAN.Net - Amazon founder Jeff Bezos is closer than ever to a historic title: the first person ever to be worth $200 billion, Forbes says.
On Tuesday, August 25, the shares of Amazon, which Bezos founded in 1994 and leads as chief executive, rose 1.2%—pushing Bezos' net worth up by $2.2 billion, to a record $199.7 billion. Because he owns such a large percentage of the tech giant, even modest moves in the stock price can add or subtract billions from his fortune.
The record comes just a week after Bezos—who has an 11.1% stake in the $1.68 trillion (market capitalization) company—reached a net worth of $197.8 billion, the highest fortune Forbes had recorded since we started tracking billionaires in 1982.
Since the pandemic shook the economy in mid-February, Amazon stock has risen by more than 55%, thanks to an increasing appetite for online shopping due to shelter-in-place orders. Bezos' fortune has risen nearly $86 billion in just under 12 months. He was worth $114 billion on the 2019 Forbes 400 list of richest Americans, which used stock prices from early September 2019.
Bezos would have already surpassed the $200 billion mark had he not gone through the costliest divorce in history. In July 2019, Bezos ended his 25-year marriage and transferred a quarter of his Amazon shares to his now ex-wife, MacKenzie Scott, who currently owns an estimated 3.8% of the company.