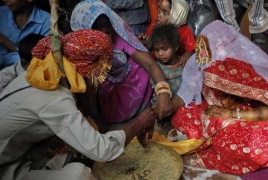 September 3, 2020 - 12:01 AMT
PanARMENIAN.Net - Tens of thousands of girls across Asia are being forced into child marriage by desperate families plunged into poverty because of the coronavirus pandemic, as campaigners warn that years of progress tackling the practice is being undonel Al Jazeera says in an article.
Child marriage has long been practised as part of tradition in communities from the Indonesian archipelago to India, Pakistan and Vietnam, but numbers had been decreasing as numerous initiatives worked to spread awareness of its dangers and encouraged access to education and women's health services.
These improvements are being eroded as the impact of the virus causes mass job losses, leaving parents struggling to feed their families, experts say.
"All of the gains we've made in the past decade are really going to suffer," explains Shipra Jha, head of Asia engagement at NGO Girls Not Brides.
"Child marriage is firmly rooted in gender inequality and patriarchal structures. What's happened is that it's become compounded in the Covid era," she adds.
Poverty, lack of education, and insecurity drive child marriage even in stable times, so periods of crises exacerbate the problem, the NGO says.
Worldwide, an estimated 12 million girls are wed every year before the age of 18, according to the UN.
Girls Not Brides warns that unless urgent action is taken to tackle the economic and social impact of the virus - an additional 13 million child marriages will take place in the next decade.