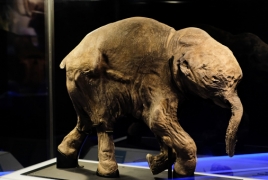 September 7, 2020 - 18:19 AMT
PanARMENIAN.Net - Scientists behind a fresh study have concluded that 558 mammal species could be extinct by the end of this century, The Ecologist reports.
The research, published in a recent edition of Science Advances, discovered that human impact has caused 96% of past extinctions, and was a more significant factor than climate breakdown.
In particular, human activities are almost solely responsible for increasing mammal extinction rates over the past 126,000 years, a study has found.
The findings differ from the views of other scientists, who believe that major climatic changes associated with Ice Age cycles were the main driving force behind most prehistoric mammal extinctions.
"We find essentially no evidence for climate-driven extinctions during the past 126,000 years," said the study's co-author Daniele Silvestro.
"Instead, we found that human impact explains 96 percent of all mammal extinctions during that time."