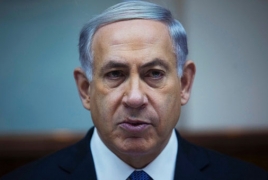 September 14, 2020 - 14:55 AMT
PanARMENIAN.Net - Israel has imposed a second national lockdown, after seeing a spike in coronavirus cases, The Independent reports.
Prime Minister Benjamin Netanyahu told the nation during a televised news conference on Sunday, September 13 evening that schools, shops, hotels and shopping centres will have enforced restrictions again from Friday, the eve of Jewish New Year.
It comes after Israel, which has a population of nine million, saw more than 4,000 new cases in a single day last week.
According to the latest figures from Israeli Health Ministry, since the start of the crisis, more than 153,000 people have caught the virus and 1,108 have died.
Addressing the quarantine around the time of Rosh Hashanah, Mr Netanyahu said: "Our goal is to stop the increase (in cases) and lower morbidity.
"I know that these steps come at a difficult price for all of us. This is not the holiday we are used to. And we certainly won't be able to celebrate with our extended families."
Restrictions Israelis must follow until October 11, when the measures will be reviewed, include:
– All schools, hotels and shopping centres to close,
– Supermarkets, pharmacies and restaurants can only open for delivery,
– Non-governmental offices and businesses can stay open but must not accept customers,
– Up to 10 people can meet indoors while groups of up to 20 are allowed outdoors,
– People can only leave within 500 metres of their homes with the exception of travelling to workplaces.