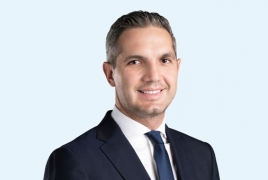 September 15, 2020 - 18:11 AMT
PanARMENIAN.Net - Inecobank CJSC announced on Tuesday, September 15 the appointment of Aram Kayfajyan as an Independent Member of the Supervisory Board.
Kayfajyan has been the Chief Executive Officer of Armenbrok OJSC since July 2004. Under his leadership, the company's shareholders' equity has increased 40 times, while assets have grown 20-fold. Since 2010, he has been been teaching at the Russian-Armenian (Slavonic) State University. Kayfajyan has also been serving as a Board member of Ani Holding international manufacturing and hotel management group since 2015. He became a founding shareholder and a Board member of Glocal Asset Management in 2017, a position he has held ever since.
Avetis Baloyan, Chairman of Inecobank Supervisory Board said in his speech: "We are delighted to welcome Aram Kayfajyan to Inecobank. He brings a wealth of experience in capital markets and a deep knowledge of the financial sector of Armenia and the banking system․ His presence in the Supervisory Board will contribute to the sustainable development of Inecobank".
Kayfajyan said: "Inecobank's development over the past years has been very impressive. Today, with the diverse challenges facing the Armenian banking institutions, it is clear that the bank's senior management team is determined to continue taking all the steps necessary and further bolster Inecobank's leading position in the market. I am honored and excited to have this opportunity to serve as a member of the Supervisory Board and join efforts with what I consider one of the most professional teams in the industry. I will be happy to contribute all my skills and expertise for the benefit of the bank's future"․
Kayfajyan will become the 3rd independent member in a seven-strong supervisory board of Inecobank, with the other 4 seats occupied by the founders and investors of the bank.