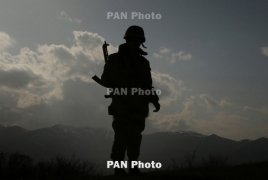 October 7, 2020 - 23:41 AMT
PanARMENIAN.Net - The Nagorno-Karabakh Defense Army troops have retaken a position they had lost earlier, as well as save the lives of 19 soldiers who were hiding in the woods, waiting for their fellow servicemen, Karabakh President Arayik Harutyunyan said on Wednesday, October 7.
"Another brilliant operation of the Defense Army enabled our troops to not only liberate one of our lost positions, but also save the lives of our 19 soldiers, who, after bravely resisting the enemy a few days ago, did not retreat but hid in the woods nearby and wait for our army to counterattack," the Karabakh President said on Facebook.
"By the way, as a result of this operation, the enemy suffered great losses of military equipment and immediately retreated leaving more than 100 victims in the battlefield."
Azerbaijan, with help from Turkey, launched a large-scale offensive against Karabakh (Artsakh) in the morning of September 27, shelling Armenian positions and civilian settlements with large caliber weapons and rocket systems. Armenia and Karabakh have introduced martial law and total mobilization. The Armenian side has reported deaths and injuries both among the civilian population and the military. International and local journalists too have been injured in Azeri shelling of towns and villages.
Donations can be made to Hayastan All-Armenian Fund, which has launched a fundraising campaign to support Karabakh amid Azerbaijan's aggression.